Want to speak to a clinician one-on-one about monkeypox? Book a Virtual Healthcare appointment today to get information on safety and symptoms, counseling, education, or help accessing a vaccination or treatment site in your area.
The spread of monkeypox (MPX) is a real concern for many of us in the LGBTQ+ community. In early August 2022, the White House declared monkeypox a public health emergency in the United States. Over the last week, cases of monkeypox have jumped by 20 percent, bringing the total worldwide current outbreak to a staggering 35,000, according to the World Health Organization (WHO). Nearly all reported positive cases are in Europe and the Americas.
Understandably, anxieties around MPX run high. Over the four decades and, more recently, the past three years, we've all gained a heightened awareness and hypervigilance around infectious viruses with words like "pandemic" and "epidemic" becoming a common part of our everyday lexicon. If there is anything that we've learned, it's that the science and the dialogue are both constantly evolving (and honestly, sometimes just trying to catch up) on how viruses are spread, who is at risk, and what we can all do to keep ourselves and others safe.

However, the language we use when we talk about viruses matters. This has been not only true of Asian experiences of racism during the COVID-19 outbreak, but the recent critiques and criticisms of the racist connotations behind the name "monkeypox" show us what is at stake when we link infections and diseases to marginalized communities. While the WHO hosts an open forum to rename the monkeypox virus, whether or not the mainstream media or other health information sources will update their language—or if the damage is already done—is still up for debate. The words that we use when we name viruses, talk about where they originated, and describe who is at risk have consequences.

With how quickly misinformation about viruses spreads on social media and beyond, especially when stoked by collective fear and anxiety, it can be hard to separate fact from fiction. According to a recent survey by the Annenberg Public Policy Center, one in five Americans fear getting monkeypox but lack important information about how it spreads, who is at risk, and whether or not a monkeypox vaccine exists. There has been much debate about how to communicate about monkeypox and its prevalence in certain segments of the LGBT community, specifically queer cisgender men and those of us who sleep with queer cisgender men.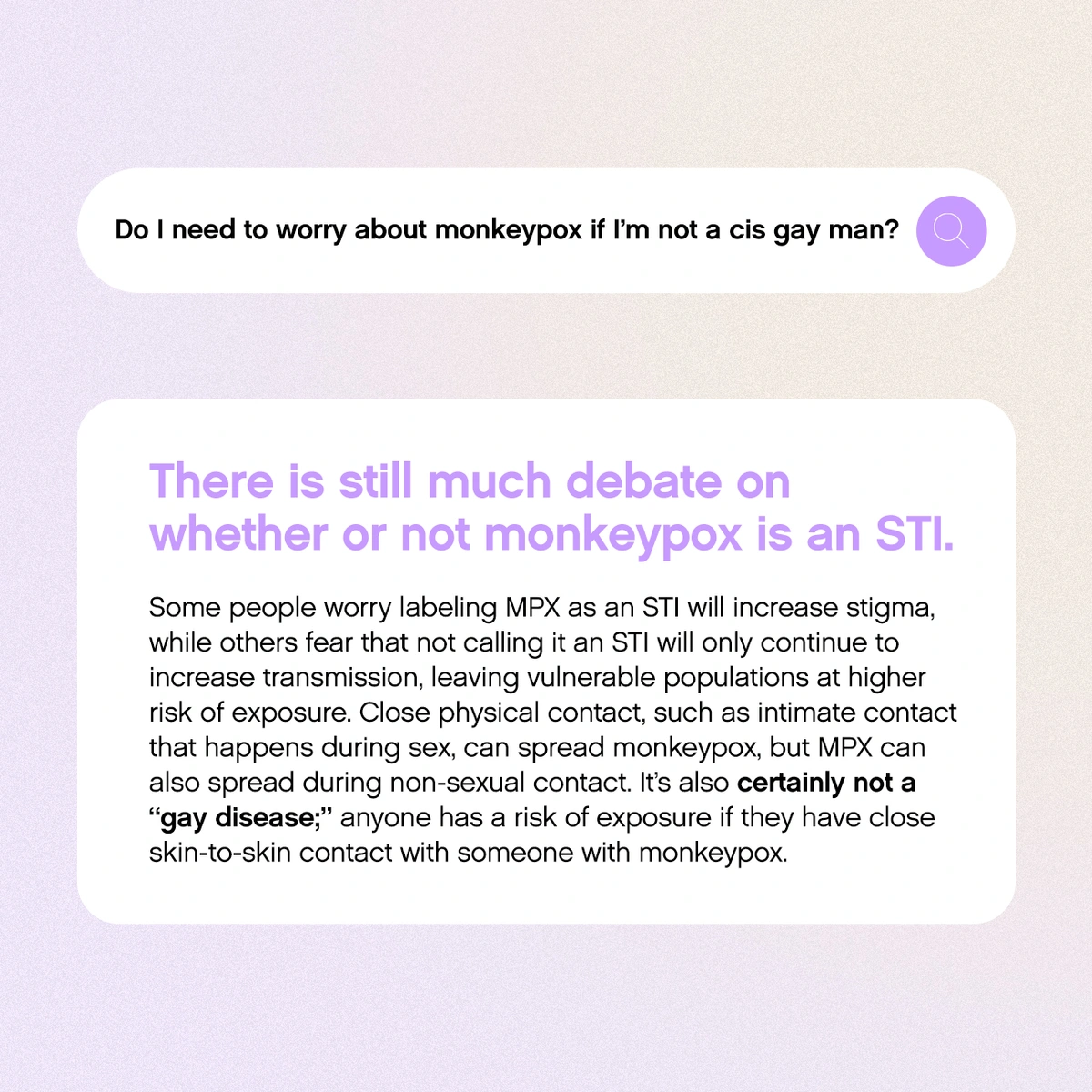 On July 26, an international group of researchers released a report projecting that men who have sex with men would remain the only high-risk group for monkeypox infection in the current multi-country outbreak. The category "MSM" has been one of the main ways that the Centers for Disease Control and Prevention (CDC) has talked about the group of people most likely to be exposed to monkeypox in their messaging.
This term—which stands for men who have sex with men—has a long history that many in the public healthcare sphere understand. While MSM is clinically meant to refer to sexual behavior alone (as opposed to sexual orientation), the term falls short of acknowledging the existence of transgender and nonbinary people. There are many transgender and nonbinary people who are not men, who are just as at risk for monkeypox if they have sex with MSM (men who have sex with men), as well as transgender men who might not be considered at risk due to anti-trans bias.
The language we use around who is at risk directly impacts who can get intervention and treatment. For example, trans women in NYC were not allowed to get vaccinated in the first round of vaccinations. We have also heard anecdotal stories of cisgender women (including sex workers) not being able to get tested or vaccinated, despite potentially being just as at risk.
We have to be careful with how we talk about the monkeypox outbreak and queer people. As we've learned from history, the language we use when we talk about gay sex and disease matters. For those of us who remember the not-so-distant HIV/AIDS epidemic and the subsequent failures of our government to respond appropriately, there is a legitimate fear that talking about monkeypox as a "gay issue" will further stigmatize the sexual practices and behaviors of queer people.
First off, gay sex is normal and healthy behavior. While it's true that, right now, gay and bisexual men and those they have sex with make up the majority of cases, asking gay and bisexual men to stop having sex is not an effective public health strategy and overall monkeypox response. Instead, taking a harm-reduction approach by empowering people with the knowledge about the risk levels associated with different types of sexual interactions can help people make realistic and informed decisions about monkeypox.
Sex is natural and an important part of life for some people. Right now, the epidemiology is clear on the fact that group sex, saunas, and bathhouses carry a high risk of monkeypox transmission. Many people who have gotten monkeypox have attended a sauna or bathhouse or had group sex within the incubation period. This can also be true of festivals and raves or sex parties or clubs where anonymous sexual contact with multiple partners occurs.
These are currently the activities that are high-risk, and therefore it is recommended that folks avoid these activities, if possible. We know that condoms can also provide some level of protection—if the lesions are in the genitals, i.e. penile lesions or proctitis and internal rectal lesions—but might not be fully protective because monkeypox spreads through other types of skin-to-skin contact as well. Beyond that, it's best to avoid sex if you or your sexual partner have or have recently had monkeypox symptoms. Make sure to communicate and be transparent with your sexual partners about any recent illnesses or symptoms you've experienced.
As of two weeks ago, the CDC updated the language on their website around vaccination eligibility to "people who have had multiple sexual partners in the last 14 days" without specifying the identity markers (i.e. gender) and focusing solely on behavior. This includes transgender women, transgender men, and other nonbinary and gender-expansive people, as well as cisgender women and cisgender men who are sex workers.
At this moment, according to the CDC, people who are eligible for the vaccine include close contacts of people who have been diagnosed or exposed to MPX and people who are aware that a recent sexual partner in the past two weeks was diagnosed with MPX. This can include sex workers and certain people who have had sex with multiple partners in the past two weeks (including group sex or public sex at a venue where there has been a known MPX outbreak). The National Association of County and City Health Officials (NACCHO) indicates in their national vaccine strategy that people living with HIV or who are eligible for PrEP are also eligible for the MPX vaccine. LA County Public Health has added that immunocompromised people, including those living with HIV, are also eligible for the vaccine, so check with your local public health guidelines as eligibility is continuing to change.
We, as a queer community, will always look out for each other. We are no strangers to the lack of recognition or care from a government or a healthcare system that has never put the safety and well-being of our community first. We've done it before with the AIDS/HIV crisis and we will do it again with monkeypox. This is how we find out where vaccines are given out, what the symptoms are like, and how we can best keep each other safe. If the government can't and won't take care of us, then we will take care of us—now and always.
We at FOLX urge anyone who fits eligible criteria to get vaccinated against monkeypox. If you have other questions or concerns about MPX, sexual health, and more, you can book a Virtual Healthcare appointment with one of our LGBTQ+ specialized clinicians. During this visit, we can offer education, counseling, information on symptoms and safety, and help finding a vaccination or treatment site. At this moment, we cannot offer MPX vaccination, lab tests, or MPX treatment.