This article was written by Adryan Corcione, Kate Steinle, and Nina Kossoff. This article was reviewed by Michelle Forcier, MD (she/they). Illustrations were created by Ocean Mateus.
If you've made it to this article, chance sare you have have received some orders for blood work laboratory tests ("labs") from your FOLX provider. In most states, FOLX pays directly for the labs, so the cost of labs is averaged out in the monthly membership cost. However, in New York, New Jersey, and Rhode Island, FOLX is not legally allowed to pay for the labs. This means that you (and/or your insurance, if you have a health insurance plan) are responsible for paying.
Quest Diagnostics labs located in New York, New Jersey and Rhode Island are required to charge the person having their labs done, including FOLX members. However, we have a way to accommodate FOLX members located in these three states in the Northeast.

If you're new to FOLX and need more information about how to get your labs done, read our article on How to Get Your Labs Done At Quest.
How FOLX accommodates those who live in NY, NJ, and RI
FOLX members in NY, NJ, and RI pay $9 less per month for their membership to offset the cost of paying out-of-pocket for labs. FOLX calculated the cost of out-of-pocket labs (including the draw fee) and averaged them out over three months. This comes out to about $9 per month.
To help negate the cost, FOLX has lowered the monthly memberships for members in these states by $9. We have negotiated with our lab partners to ensure members are paying the exact same reduced lab costs that we FOLX gets charged for other members.
"What if I can't go to Quest for my labs?"
If you're not located near a Quest Diagnostics location, or otherwise prefer to conduct your lab work elsewhere, FOLX members can get their labs done from another kind of lab location outside of the Quest network. Our team can send orders to other lab locations as long as the lab is available for us to choose in your Athena Patient Portal. Fortunately, most labs are! However, if Quest isn't an option for you, please discuss this with your clinician directly since not all lab locations test for certain kinds of lab work.
Additionally, lab results may not be automatically integrated and visible in your Athena Patient Portal, so members would have to upload their results as a .pdf file and notify their clinician (in the Athena Patient Portal) letting us know they've been uploaded for our review.
Members are still as responsible for non-Quest lab payments directly to the lab as they would be for Quest locations. If you are going to a non-Quest location, the estimated lab fees do not apply to your labs; please contact the lab's billing department for lab fee estimates. If Quest is not an option for your lab work, please contact your clinician to coordinate the alternative lab work route.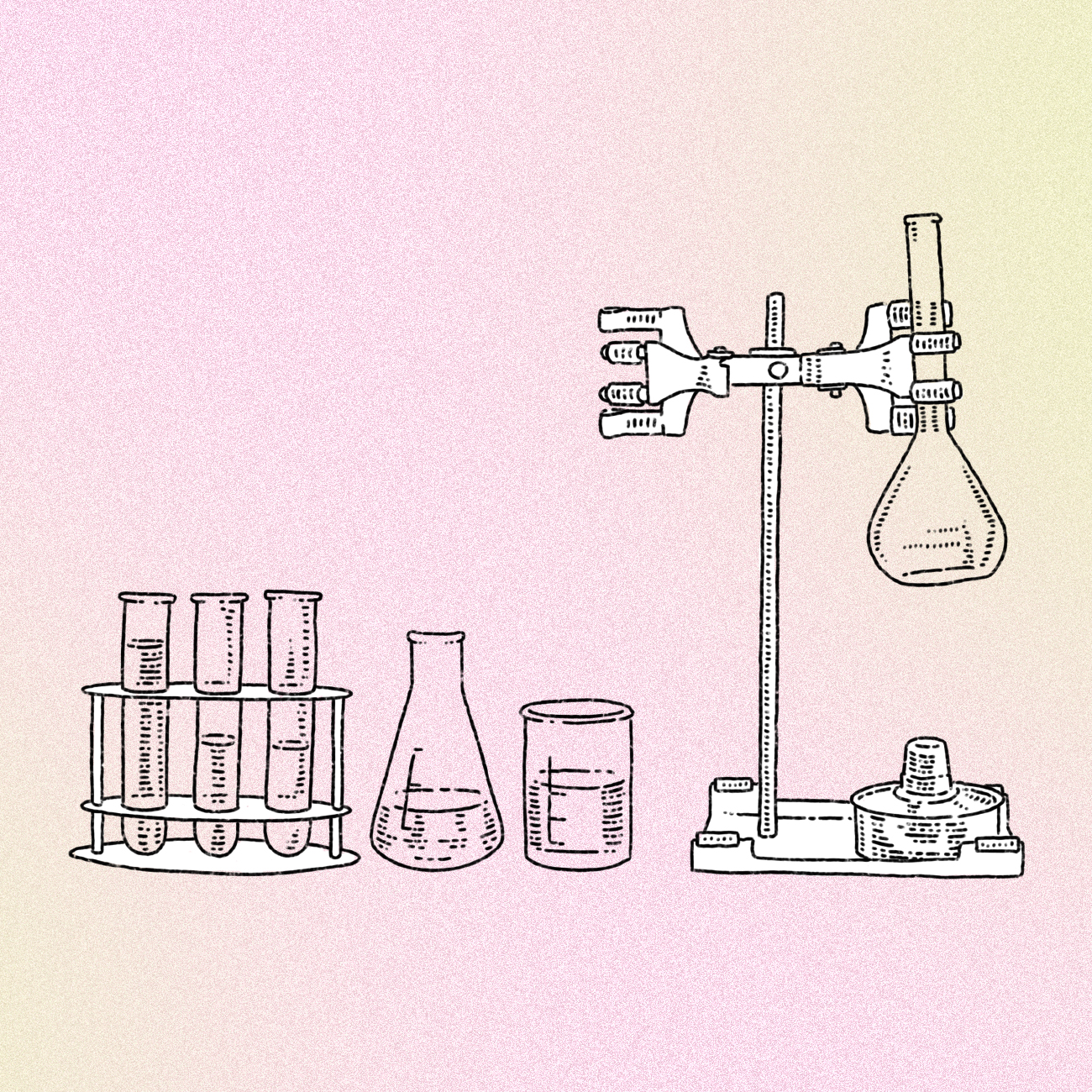 Know your lab fees before you go
Your provider might order blood work/labs to help you meet your gender goals and to make sure your care is on track. Labs are tools we use to help you make decisions about your gender plans. Some people may need labs more regularly than others. Some people may only need labs once a year. It is important to remember that more labs does not mean better care and more labs do not always actually help you and your goals.
If you're on PrEP, whether you're on hormones or not, you'll also need your labs done, though.

There isn't a standard that applies to everyone on PrEP. Those who are just starting PrEP with FOLX need to be tested for HIV and hepatitis B, as well as have their kidney function checked.
For those who are currently on PrEP or have been recently, you'll need to be tested every three months for HIV. Creatinine will need to be tested for less frequently, such as every six or 12 months, depending on a person's age and kidney function when starting PrEP. Additional tests may be recommended based on your risk factors; your clinician will speak with you if they feel this is medically necessary.
With that said, it's important for people in these states to have an idea about how much lab work will cost, so you're able to prepare financially and plan ahead. Different labs have different costs. FOLX Health looks for the best labs for your care but with the least cost to you (if you are going to a Quest location). Please note the charts below include estimated fees for Quest labs only and can be subject to change in the future. If you are getting your labs done at a non-Quest location, these rates and lab codes can (and likely will) look totally different; we encourage you to contact your lab's billing department to learn about estimated costs ahead of time. If you have any questions about which labs you need for your prescription, please speak with your FOLX clinician to verify this.
The information below also includes a different breakdown for those who are on PrEP, not just those on gender affirming hormone therapy. Additionally, note that the PSC Draw Fee (PSC stands for patient service center) is Quest's fee to actually draw your blood, not another test.
Testosterone lab work cost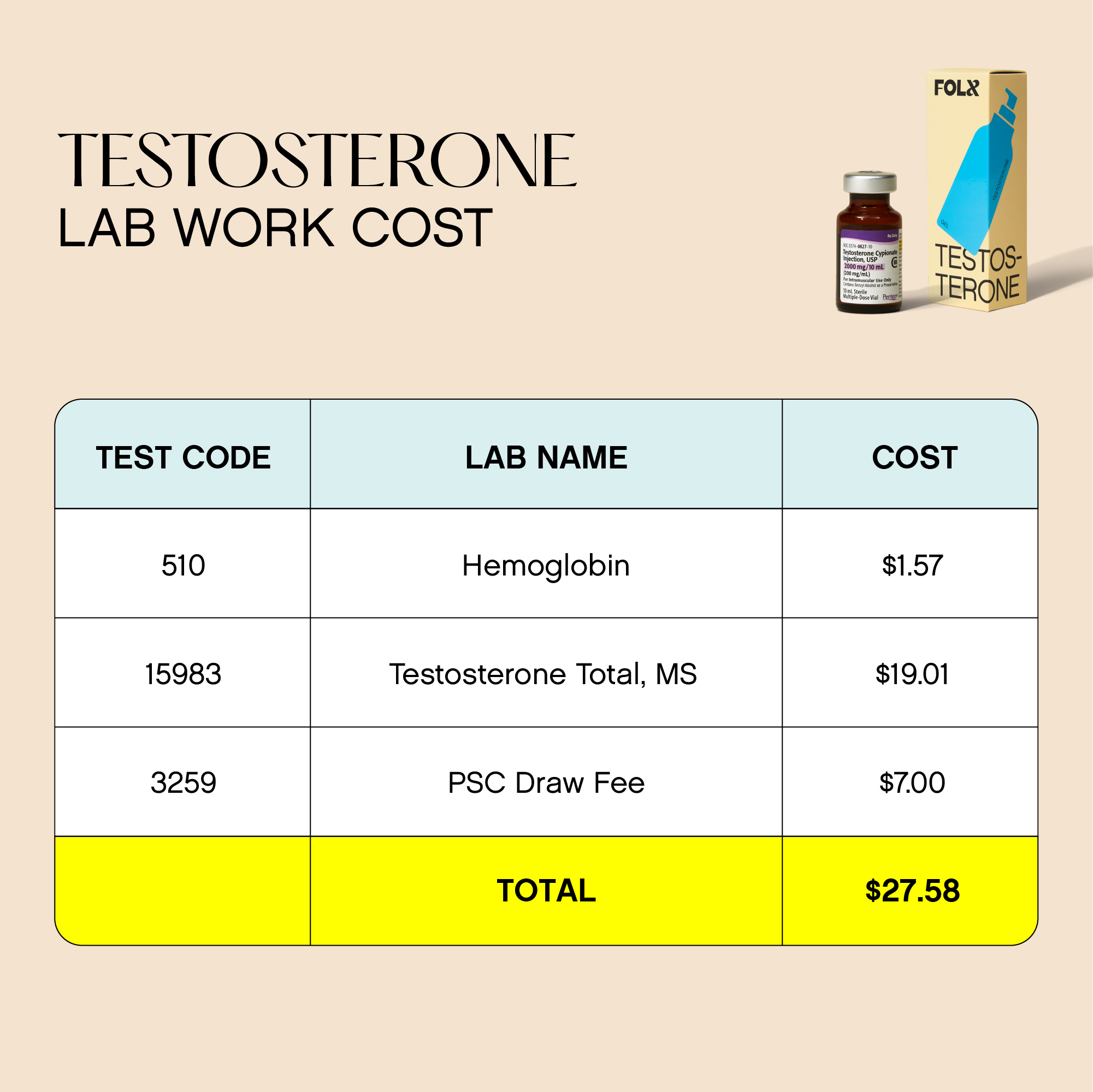 Those on testosterone get two main labs drawn. For more information about this, read our article called The Deal with Testosterone Labs.
Estrogen and spironolactone lab work cost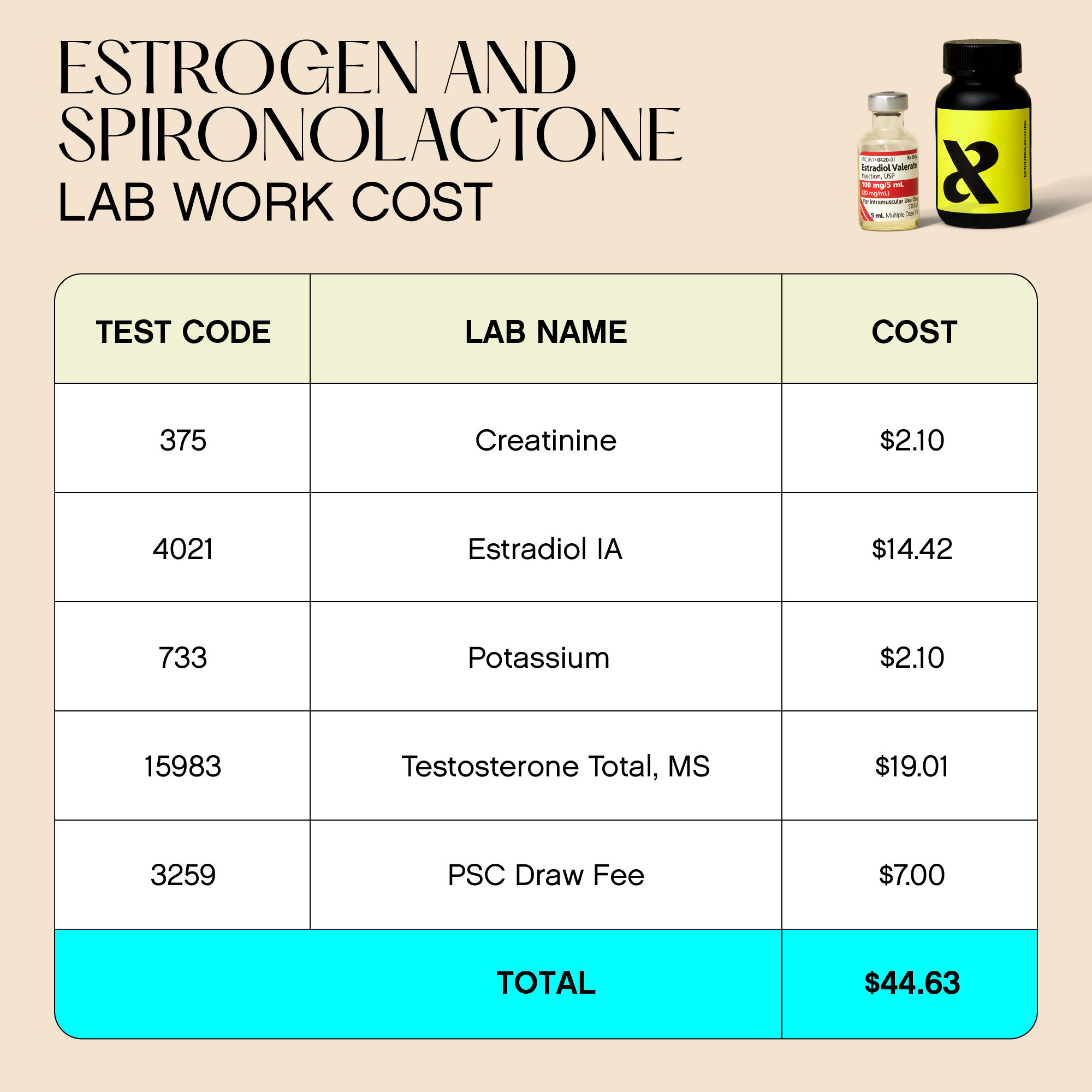 Estrogen only lab work cost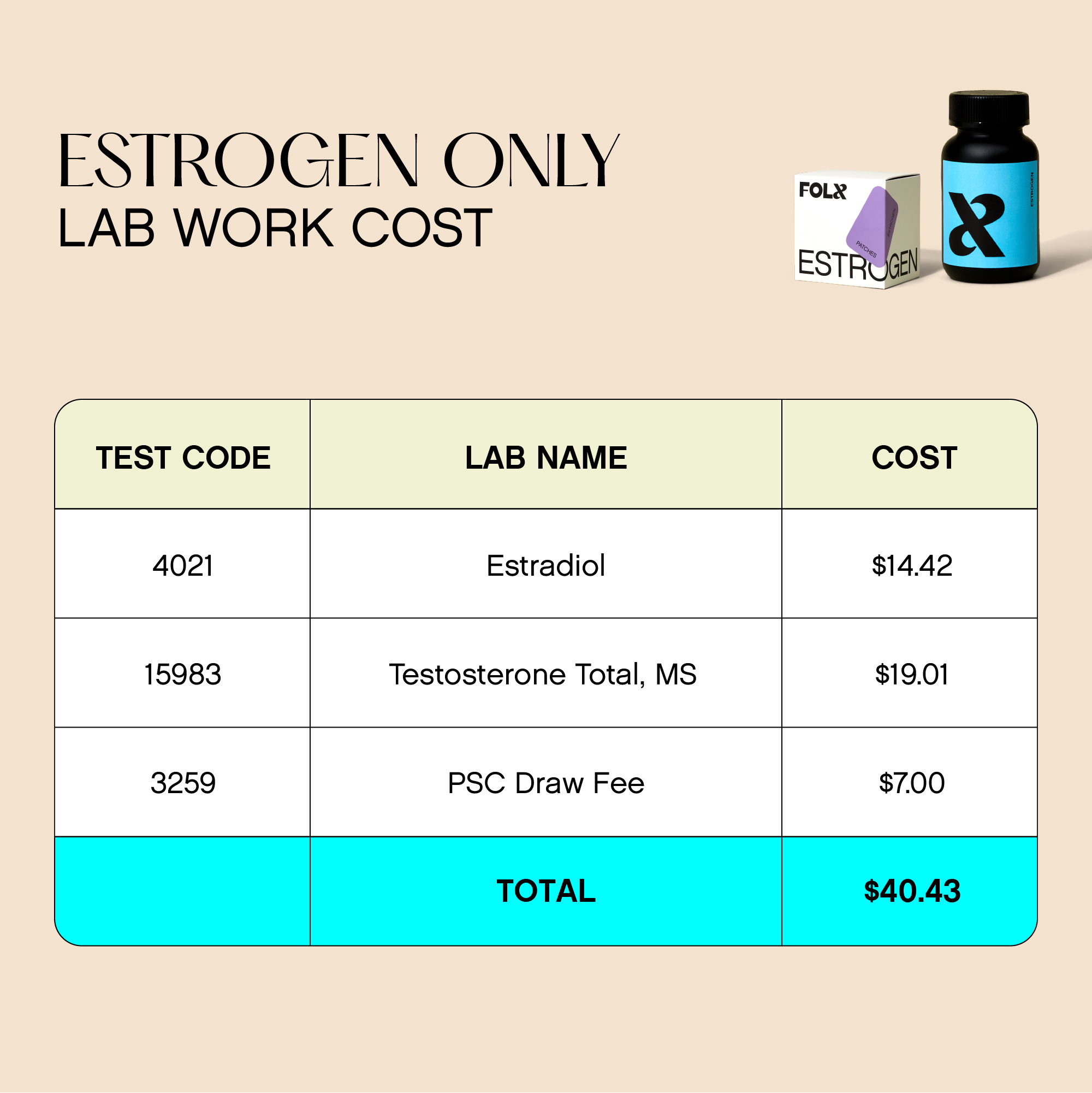 Those on estrogen get three to four depending on whether they are also taking spironolactone. For more information, read up on an article called The Deal with Estrogen Labs.
PrEP initial lab cost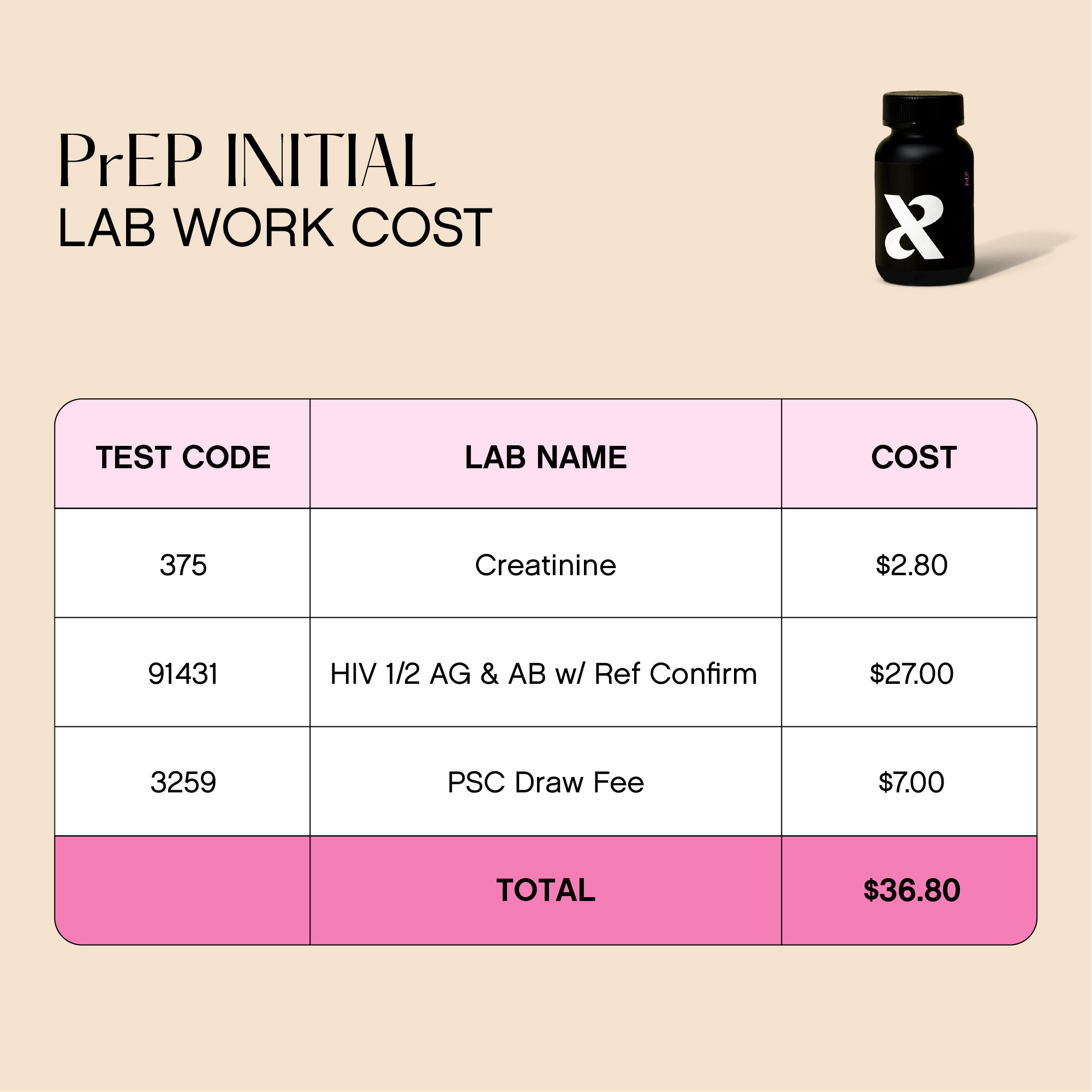 If you have any questions on these costs or want to ensure that the discount has been applied to your account, feel free to reach out to our member advocates at support@folxhealth.com. Otherwise, FOLX members can also reach out to their clinician with more general questions about lab work and dosage, especially if you aren't able to get your lab work done at a Quest Diagnostics location.